Learn About How We Got 'Stuck' - Then Developed The Solution Below...

By Michael Maven

Here's the story of how we increased the profits of a client by $23,000 a month.

We were initially contacted by a personal development company. They sold most of their personal growth info products via sales letters.

JV's Not Allowed

They wanted to find ways of getting their products out in front of more targeted buyers without using joint ventures.
The reason for this was because they wanted to keep as much of the process in house for the time being, in order to retain maximum profits up front.
They also had a limit on the additional acquisition fees they had reserved for new customers. We don't usually take on clients with pre determined limits like this and it was a challenging project. But a solution was eventually found.
Here's What We Needed To Do:
Firstly, we focussed in on buyers. Finding the ideal buyers and getting in front of them would be the key task here. We initially looked at selling a similar intro item or even a small loss leader, but there was not enough volume without going much wider on the ad spend.
We finally looked at a super busy sales venue - Amazon. There is always loads of personal development related products being sold on Amazon. It's also a very easy sales platform to sell on.
We'd heard of using Amazon to boost sales before, so it was perfect.
The idea was:
To sell popular but lower cost 'breakeven' items on Amazon first.

Build a list of buyers of this item (at almost zero cost).

Then sell the main product to these new buyers, whilst pulling out demographic info to refine future sales.

In Practice, It Worked Very Well. Here's Exactly What We Did:
We needed to start by finding a low cost, popular selling item. It needed to be attractive and related to our demographic market. It also needed to be an item we could use as a 'mini loss leader' or even a breakeven-type item.
So we turned to the personal growth 'best seller list' on Amazon.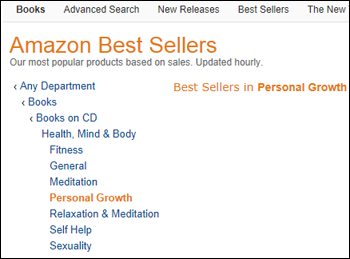 The Amazon best sellers list for Personal Growth
related items

We learned that the best seller in the personal growth section at that time, was an audio book on CD. It sold for around $5.91.
Not only that, but we also looked at a list of 'most wished for' personal growth items on Amazon. Once again, the same product was in the #1 position. Bingo!
So we just learnt what the current hottest selling item in our area is and it didn't cost us a penny. We also learnt that demand for that same item is also at it's highest peak.

This is a great time to find this item and start selling it ourselves. This way we can build a huge list of people who are interested in our market - the personal development area.

"The result we experienced were sky high conversion rates. We also built an extremely targeted list of buyers, at a super low cost."
How Did We Turn This Knowledge Into An Extra $23k A Month!?!

Ok, now we know some pretty useful information. But remember, knowledge alone does not mean anything.

So we started by purchasing these best selling audio CD's online, on eBay and wherever else we could buy them new, at a low cost (including Amazon itself).

Next we listed the exact same item on the Amazon marketplace ourselves. We also made sure we were the lowest priced seller of this audio CD. If anyone tried to undercut us, we simply lowered the price again. It didn't matter if we lost money up front. You'll see why in just a minute.

Now, Amazon loves it when you are the cheapest seller of an item. So they list you near the top of the Amazon search results when someone searches for a specific title. And remember this item was the most popular item in the 'personal development' category, on Amazon. So we sold plenty of copies of this specific audio CD everyday.

If you want to do something similar without the hassle, you can source the popular item on eBay, from online retailers, from bulk sellers or even on Amazon too. Just buy it and sell it cheaper. Or you can also arrange to have the item drop shipped if they will add your sales material to the package (more on this next).
Here's The Clever Part:
Every time we sold a CD, we inserted a direct response letter for my clients lead, personal development related product. Our team created this sales letter and it was already tested online with some PPC ads, so it was optimised for maximum response.
So now our client had:

A self generating list of buyers in the personal development market.

A lead product also geared towards people interested in self development.

An initial sales relationship by delivering a product quickly and safely.

Many new sales letters being sent out and read every day, by the same super hot targeted prospects.
You Know What Happened Next...

The result our client experienced was sky high conversion rates (compared to their other sales venues). They also built an extremely targeted list of buyers of their initial lead product. These customers can all be sold to, in the future as well.

And all this was done at a super low cost. The only expenses we had were the price difference between the next lowest seller on Amazon and ourselves, plus a little postage to receive and post the item (a single CD is very cheap to post).

Before we came on board, our client had sales close to $14k monthly. The above method was responsible for taking their business to around $37k a month. That's an increase of $23k a month and this strategy can be used and adapted to carry on working in the future. Sales were more than doubled...

Now, we hope you found this educational. Because this is only just getting started.

Perhaps you're starting to see how important it is to make your business as strong as it can be. You can make more money and have have more free time with minimum investment required. If you want to learn more, then I'd recommend you make a commitment and take your business to MUCH HIGHER LEVEL.

And what's the best way to do that?

Well, we've spent more than the last decade testing exactly what works and what doesn't work in business growth with marketing, sales and advertising.

We had to figure this all out for ourselves, by testing in the real world. Now we've seen the patterns, we're improve other businesses as well.

Today our limited time, 'Lost Profit' Finder: Diagnostic Session service is the result of thousands of hours of research, learning, testing, and implementing. We've organised each level of this knowledge into a system that can be used by almost any business in order to grow sales and improve their business efficiency in any market.

And best of all - it has worked for many companies all over the world, time and time again.

The system is highly advanced. And we can only offer a few of these each month (because they are conducted and made for you by a real advisor). It is now available for use in your business.

Get more info here: 'Lost Profit' Finder: Diagnostic Session